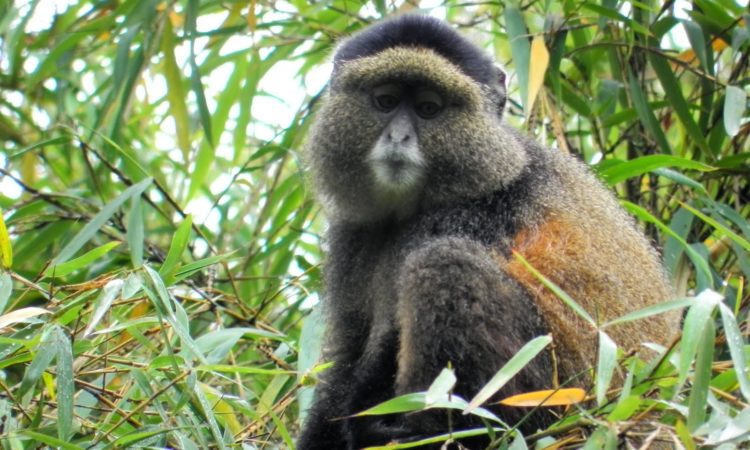 Golden Monkeys In Volcanoes National park
Golden monkeys are other endangered primates that you can track at Volcanoes National Park in Rwanda.
Where to find Golden Monkeys in Rwanda
They can be seen within the forests on the high altitude of Volcanoes national park. Chances are that you will see them when you go gorilla tracking. They are very shy primates but also playful. Just like any other monkeys they play alot on the tree branches.
Despite the fact that there are lots of them habituated, there are alot that  are still wondering in the forest.
There are just two habituated groups of the golden monkeys in Rwanda. Each has between 80 to 100 members. One group lives on the foothills of mountain sabyinyo.
Golden Monkey Tracking in Rwanda
Tracking golden monkeys follows the same procedure like the gorillas. The tracking starts at 7.00am at the park head quarters with briefing and permits are sold by the Rwanda development board. Unlike the gorillas, the golden monkeys have unlimited permits a day although you can only have one hour with these monkeys.
A permit costs just USD 100 per person. Just like gorillas you can hire a porter to carry for you your luggage and most rules apply just like the gorillas. You are allowed to take as many pictures as possible.