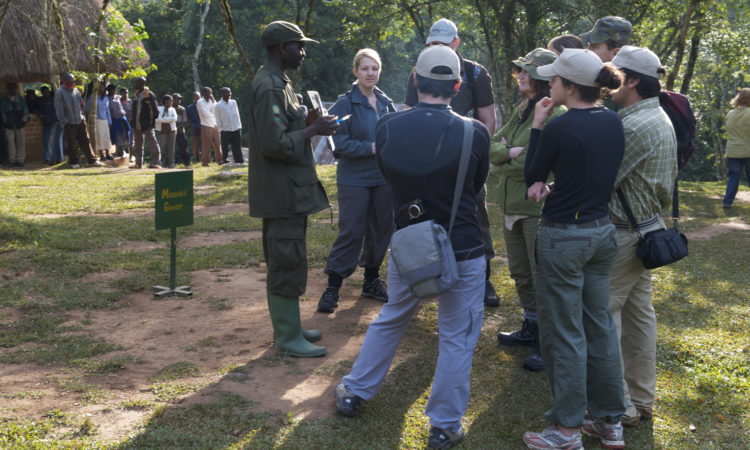 Mountain Gorilla Tracking Tips
When is the best time to go for Gorilla Tracking?
Its is always good to track gorillas during the dry months of the year(June-Sept and Dec to Feb). During this time the terrain is not slippery and the hike is good. Volcanoes National park is a tropical rain forest and therefore it can rain anytime. Despite that these are dry months, you shouldn't take it for granted but just be prepared for the rain anytime.
The so called wet months are also not as wet as they are portrayed. In African it rains just for a few hours and activities go on there after. So you shouldn't hesitate to visit in any month more so for the gorillas since they are not affected by rain. In fact they move less in the rainy season.
How fit do I have to be for gorilla trekking?
Anyone can track the gorillas as long as you are psychologically prepared. Even for the lame or the disabled, there are facilities that can help you track gorillas of course at a fee. Gorillas tracking can be easy at time depending on your luck.
What to take when I go gorilla trekking?
You just nee your strong legs and healthy body. Carry a rain coast since we are never certain about the weather. Put on light layers that you can put of easily and keep in case it becomes hot. Of course you have to put on hiking boots. Remember to carry alot of water and packed lunch.
How long are the gorilla treks?
The length of the trek cannot be determined, it depends on your luck! sometimes the gorillas are very near at times they move very far. Remember these are wild animals and therefore they can not be predicted. But usually the longest the trek may last will be about 6 hours and then  you get to spend a maximum of one hour with the gorillas.
What advice would you give for photography?
Gorillas are irritated by flashes and therefore ensure that the flash of your camera is off. This can make them charged and try to fight you. Bust has long as you stand at the distance the guide has recommended and you have you flash of, you will be able to take pictures of the gorillas. There is a Special Session for those that specifically what to photograph or film the gorillas.