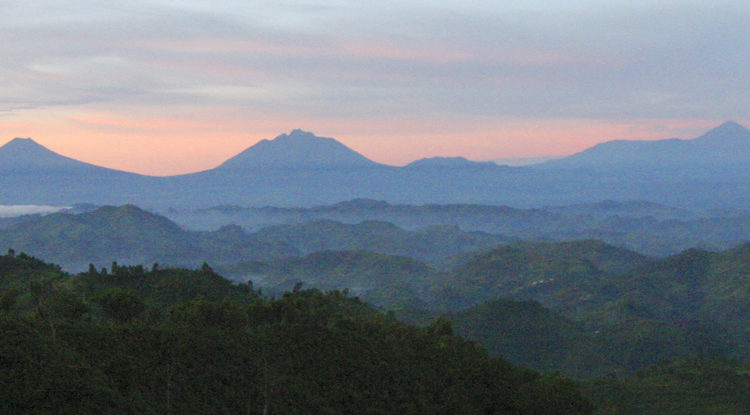 Virunga Volcanoes is a chain of about 8 volcanoes. They are located in the East African Rift Valley and it  is alleged that they are park of this Rift.
The word "ibirunga"(comes from  Kinyarwanda dialect)  which literally means "Mountains" is where the word Virunga is derived.
The virunga area like i said has 8 volcanoes located between Lake Kivu and Lake Edward. These Mountains include: Mount Nyamurangira 3058 meters, Mount Nyiragongo 3470 meters, Mount Gahinga 3470 meters, Mount Bisoke 3711 meters, Mount Sabyinyo 3611 meters, Mount Muhabura 4127 meters, Mount Mikeno 4437 meters and the highest Mountain Karisimbi 4507 meters.
These volcanoes are also home to the endangered mountain gorillas. Volcanoes National Park is home to 5 of the 8 volcanoes. 3 of these volcanoes are still active and the rest are dormant.
Most of these mountains are individually coned comparing with other normal mountains. the names of these mountains are also derived from their geological characteristics for example Sabyinyo which means the old man's teeth; it actually looks like the old man's teeth.
There are a lot of recreational activities you can do. You can actually hike these mountains. There are mountain gorillas on the slopes of these mountains. you can visit the local communities that in habit on the sloped of the mountains, most of which were resettled out side these areas like the Batwa people.