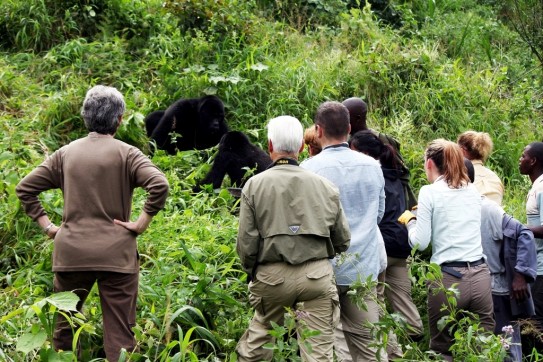 What To Pack For A Gorilla Safari
If you have booked you gorilla permits, the next things you are now thinking about is what you will pack for your gorilla trekking safari. We have put up a list of the few essential things you may need for your safari.
Garden Gloves
These will help you as you try to hold on to the branches. Some of the branches are thorny and you need to protect your hands.
Rain Jacket
Gorillas live in the tropical rain forest and therefore despite the fact that some months may be declared dry months, it can rain any time of the year and any time of the day. Its is important that you carry a rain coat just in case.
Hiking Boots
Rwanda is a hilly place and the gorillas are called mountain gorillas because they like roaming on the slopes of the volcanoes. when you are trekking these gorillas therefore you may need to hike a little to reach the gorillas. Hiking boots are therefore necessary.
Long Sleeved Shirts/Blouse/
Put on long sleeved clothes to protect you skin from the forest insects and flies. Make sure you put on dull colors as gorillas are irritated by the bright colors.
Porters for your gorilla trek
You may need to hire porters to help you with you bags as you make get tired on the way. this will help you meet the gorillas while you are still fresh and not exhausted.
Snacks
Carry some snacks that will energize you on your trek more so if you have not carried you packed lunch
Cameras and extra batteries
Make use of you time with the gorillas, there fore have your camera ready and miss no shot. Take as many pictures as possible.
Pair of Binoculars
There are a lot of things you are bound to see on you trek like birds. Therefore carry your binoculars to ensure that you miss nothing.
Hat and Sun Glasses
It can get hot sometimes therefore carry a hat and glasses to protect yourself from the sun.