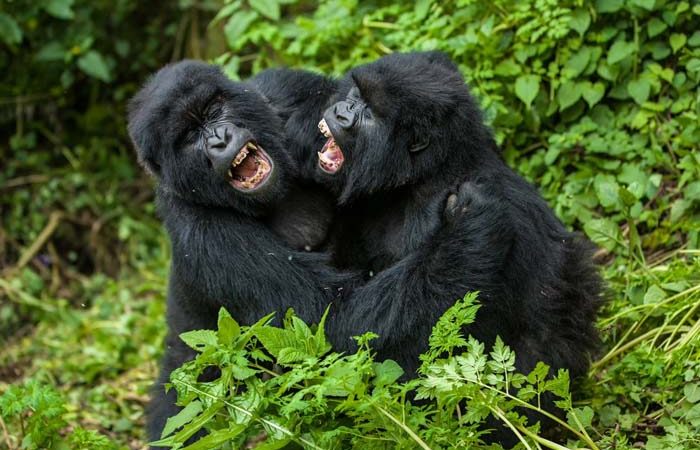 5 Days Bwindi and Volcanoes NP
Day 1: Airport pick-up and transfer to Hotel
Our representative will welcome you given your arrival at Entebbe international airport and transfer to your booked hotel in Kampala. This is an hour's drive. Dinner and overnight stay at Sheraton Hotel (luxury), Fairway Hotel (midrange), Forest cottages (budget)
Day 2: Transfer to Bwindi Impenetrable national park
Early morning after you have had breakfast, meet the driver for your transfer to Kisoro, approximately 7 hours drive with lunch and equator stopovers. Arrive at the lodge in the evening for dinner and overnight stay at Clouds Mountain Gorilla lodge (luxury), Ichumbi gorilla lodge (mid range), Gorilla safari lodge (budget)
Day 3: Gorilla trekking and transfer to Volcanoes national park (Rwanda)
Have breakfast and transfer you to park offices for briefing about Mountain Gorilla trekking by the park warden then connect to the forest to search for the gorillas. The time taken is usually between 2-8 hours depending on the movement of the gorillas. Meeting the gorillas unexpectedly is one of the most captivating lifetime experiences. You will have a chance to observe and take pictures at very close range. You will observe adults feeding and groaning among themselves. After an hour with the long-awaited gorillas, your ranger guide will lead you back to the starting point where your driver will readily be waiting to transfer you for lunch in Kisoro town.
Connect to cross to Rwanda via Cyanika boarder to your lodge in the Virunga Mountains for a restful evening. Have dinner and overnight stay at Sabyinyo silverback lodge (luxury), Le Bambou Gorilla lodge (Midrange), Hotel Muhabura (budget)
Day 4: Gorilla trekking experience
After early morning breakfast, you will be transferred to the park headquarters-kinigi for a briefing about the endangered mountain gorillas from the park warden. Along with your trekking gear, drinking water and packed lunch, the driver will drop you off at the starting point to trek the gorillas together with the ranger guides. This activity may take between 1-8 hours searching for the gorillas depending on their movement. However meeting them is so rewarding and you will spend maximally 1 hour with them as you take time studying them and taking pictures and videos. After spending your time with the fascinating mountain gorillas, return to the base and meet your driver to connect to your lodge for lunch and refresh.
After lunch and time is available, take a cultural walk to Iby'iwachu Cultural Village-a Non-Profit umbrella organization that aims at improving the lives of reformed poachers and communities around Rwanda's Volcanoes National Park through provision of conservation incentives, supporting community enterprise development and livelihood based projects. It's a rewarding place where you will be guided around the place as you enjoy the Kinyarwanda traditions including the Intore dance, traditional ceremonies and a guided community walk.  Retreat and return to your lodge for relaxation, dinner and overnight stay as above. Sabyinyo silverback lodge (Luxury), Le Bambou Lodge (Midrange), Muhabura Hotel (Budget)
Day 5: Golden Monkeys tracking and return to Kigali
After early morning breakfast, transfer to the park headquarters for briefing from the park warden about the endangered golden monkeys. After connect to the tracking starting point and enter the forest to search for the rare golden monkey. This activity can take about 1-5 hours and is done at closer view of the other primates in the park like the red tailed monkeys, Vervet monkeys among other.
After viewing the rare golden monkeys for an hour while taking pictures and studying their behaviors, return to the base and meet your drive to have your lunch. Then connect to the lodge for a relaxing evening. Dinner and overnight stay at as above. Sabyinyo silverback lodge (Luxury), Le Bambou Lodge (Midrange), Muhabura Hotel (Budget)