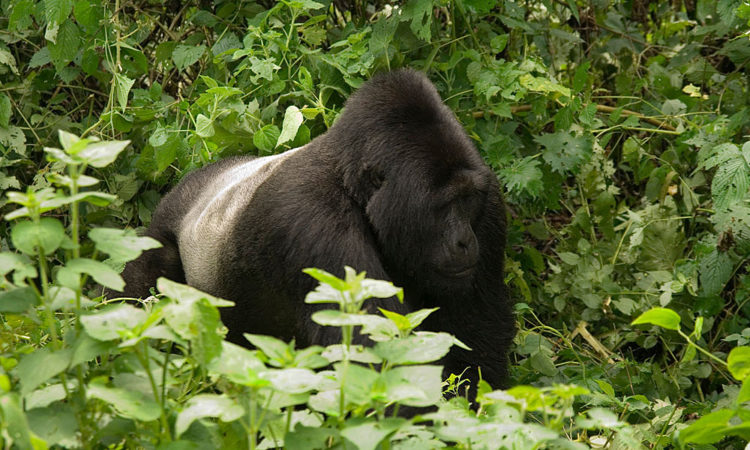 4 Days Double Gorilla Trekking Bwindi
Day 1: Pick up and transfer to Bwindi
Our representative will meet you at your lodge in the morning after you have had breakfast to transfer you to Kisoro, approximately 7 hours drive with lunch and equator stopovers. Arrive at the lodge in the evening for dinner and overnight stay at Clouds Mountain Gorilla lodge (luxury), Ichumbi gorilla lodge (mid range), Gorilla safari lodge (budget)
Day 2: Gorilla Tracking
Certainly one of the most exciting days of your safari; today you will be gorilla tracking. Breakfast will be served early and lunch will be packed. The briefing is at 7 am. Your guide will give you highlights of specific details about the way of life of the gorillas you will be tracking. The hike can take anything from 2-7 hours through the steep, densely forested hills and then finally coming across the gorillas camouflaged in the vegetation is an inspiring and privileged moment.
Once you reach the gorillas, you are allowed to spend one hour with them as you stand 6 meters away. Upon completion of this magical encounter, you will drive you back to the lodge where you can relax in the afternoon or go for another walk to visit one of the communities around. Dinner and overnight stay at lodge as above. Clouds Mountain Gorilla lodge (luxury), Ichumbi gorilla lodge (mid range), Gorilla safari lodge (budget)
Day 3: Second Gorilla Tracking
On this day you will enjoy your second gorilla trekking adventure in a different sector. Set off for yet briefing about the gorillas in that specific region after an early breakfast. Once the gorillas are located, your group will be allowed a maximum of one hour with them. Gorilla trekking is one of the world's truly memorable wildlife experiences and the given hour is often too quick, but after you will slowly make your way back to our lodge to recount the day's adventures. Dinner and overnight stay at lodge as above.
Day 4: Transfer back to Kampala
Depart the lodge after breakfast to connect back to Kampala then Entebbe arport to find your return flight back home.
End of the adventure