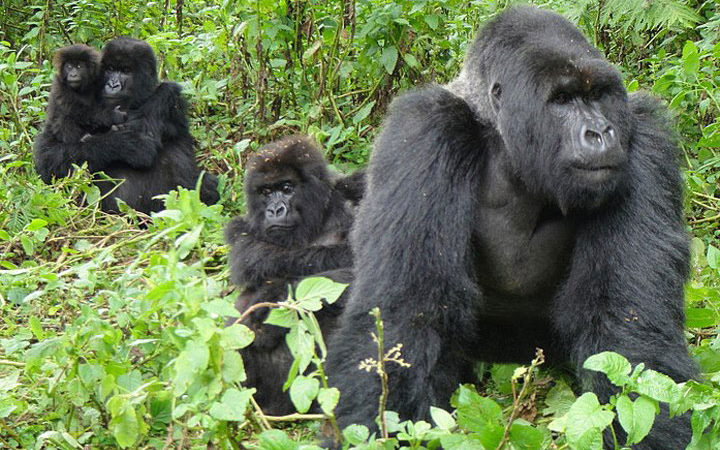 3 Days Bwindi Gorilla Safari from Kigali
Day 1: Pick up (Kigali) and Transfer to Bwindi Impenetrable National park (Uganda)
On this day, upon arrival at Kigali Airport or depending on your location in Kigali city, you will meet our company representative/ guide who will transfer you to home of half of the remaining endangered mountain gorillas-Bwindi national park. This is a 4 hours driver from Kigali city to Kisoro district; you will have to cross the border either Cyanika or Katuna depending on your lodge location. Connect to your lodge for relaxation, dinner and overnight stay. Mahogany springs lodge (luxury), Ichumbi Gorilla lodge (Midrange), Gorilla safari lodge (budget)
Day 2: Gorilla trekking experience
After early morning breakfast, you will be transferred to the park headquarters for a briefing about the endangered mountain gorillas from the park warden. Along with your trekking gear, drinking water and packed lunch, the driver will drop you off at the starting point to trek the gorillas together with the ranger guides. This activity may take between 1-8 hours searching for the gorillas depending on their movement.
However meeting them is so rewarding and you will spend maximally 1 hour with them as you spend time studying them and taking pictures and videos. After viewing the gorillas, return to the base and if you so wish, take time and visit the community outside the park before driving back to your lodge. Dinner and overnight stay at lodge as above. Mahogany springs lodge (luxury), Ichumbi Gorilla lodge (Midrange), Gorilla safari lodge (budget)
Day 3: Transfer back to Kigali
After enjoying your breakfast, meet the driver and embark on your journey back to Kigali through any of the crossing borders. If time allows, visit the Kigali genocide site and craft shops, have lunch then later connect to the Kigali airport to find your scheduled flight back home.
End of 3 days safari