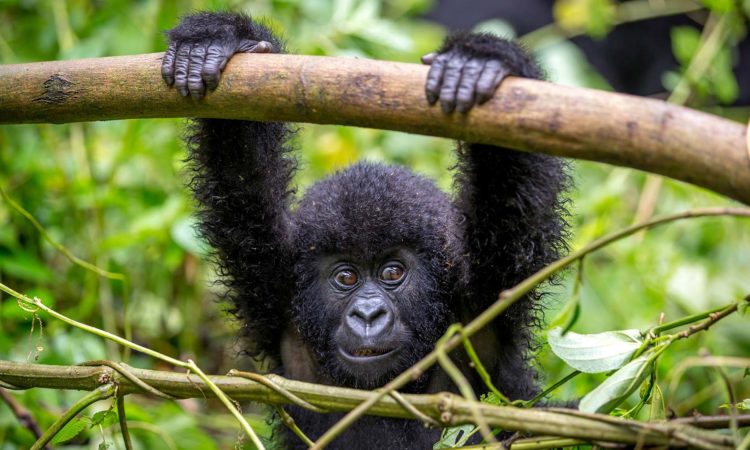 3 Days Affordable Rwanda Gorilla Trek and Dian Fossey Hike
Day 1: Arrival and Transfer to Volcanoes National park
On this day, upon arrival at Kigali Airport or depending on your location in Kigali city, you will meet our company representative/ guide who will transfer you to home of the endangered mountain gorillas-Volcanoes national park. This is a 2-3 hours driver from Kigali city to Musanze province. Connect to your lodge in Ruhengeri for relaxation, dinner and overnight stay. Sabyinyo Silverback Lodge (luxury), Le Bambou Gorilla lodge (Midrange), Hotel Muhabura (budget)
Day 2: Gorilla trekking experience
After early morning breakfast, you will be transferred to the park headquarters-kinigi for a briefing about the endangered mountain gorillas from the park warden. Along with your trekking gear, drinking water and packed lunch, the driver will drop you off at the starting point to trek the gorillas together with the ranger guides. This activity may take between 1-8 hours searching for the gorillas depending on their movement. However meeting them is so rewarding and you will spend maximally 1 hour with them as you take time studying them and taking pictures and videos.
After spending your time with the fascinating mountain gorillas, return to the base and meet your driver to connect to your lodge for lunch and refresh. After lunch and time is available, take a cultural walk to Iby'iwachu Cultural Village-a Non-Profit umbrella organization that aims at improving the lives of reformed poachers and communities around Rwanda's Volcanoes National Park through provision of conservation incentives, supporting community enterprise development and livelihood based projects. It's a rewarding place where you will be guided around the place as you enjoy the Kinyarwanda traditions including the Intore dance, traditional ceremonies and a guided community walk. Retreat and return to your lodge for relaxation, dinner and overnight stay as above. Sabyinyo Silverback Lodge (Luxury), Le Bambou Lodge (Midrange), Muhabura Hotel (Budget)
Day 3: Dian Fossey hike and return to Kigali
After early morning breakfast, the driver will transfer you to the park headquarters where you will connect to the trial head (30 minutes drive). At the trail head, you will walk for just 10 minutes to the park boundary to connect to Karisoke research camp where Dian Fossey lived, killed and buried. Dian was an American primatologist who dedicated her entire life conserving the lives of the mountain gorillas in Rwanda's Virunga Mountains until she was killed.
Hiking to Dian Fossey graveyard is one and a half hike with great views of forest fogs, forest elephants and different species of birds and primates. On arriving at the camp, you will see a house where she was murdered and buried just next to her favorite gorilla (digit) along with other mountain gorillas killed by poachers.
Later return to the base and meet your drive to have your lunch. And finally connect to Kigali city and take time to visit the Kigali genocide site and craft shops. And later connect to the airport to find your scheduled flight back home.
End of 3 days safari