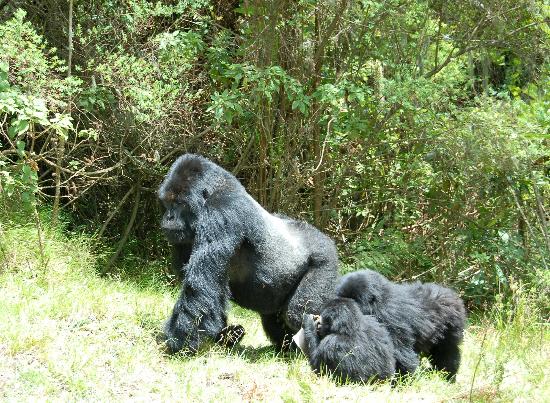 Volcanoes National Park in one of the habitats for the world' endangered mountain gorillas that you should not miss on you safaris in East Africa and more so Rwanda. Your safari gives the gorillas hope of existence as part of the money you pay goes to conservation.
There are apparently ten gorillas families in Volcanoes National Park and they have been habituated and ready to be tracked by humans. One of the families is Umubano which means neighborliness.
This Mountain gorilla family has 13 members with one silverback, a sub adult, six infants, three adult females and you have a chance to meet them while on you safari in Rwanda.
In several conditions if a group has more than one silverback, when the main Silverback (leader) dies the nest Silverback to him takes over the leadership of the group. Unfortunately, this wasn't the case with Charles the leader of Umubano gorilla group. After the sudden death of the leading Silverback. Charles could not submit to the next Silverback on so many occasions and instead left the group with two females to form his own group.
This family was initially part of the Amahoro group before forming one of their own due to instabilities between Charles and Ubumwe the Silverbacks. As Charles grew older, he was tired of taking orders thus fighting and challenging the leadership of Ubumwe. Ubumwe also accepted Charles to take two of his females to form his own group. They meet on several occasions but the two never fight.
Charles is so ambitious and being a young silverback has made him maintain his group successfully and also gain more females within a short span. In this group, Ubumwe the silverback is the happiest and the strongest of them all. You can meet this group on you next Rwanda Safari.