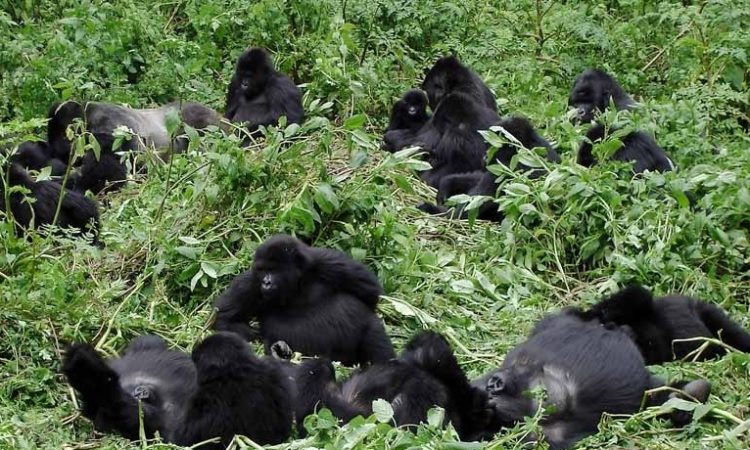 Ugenda gorilla family has 11 members with two Silverbacks. The name Ugenda means "Mobile" in local Kinyarwanda and is derived from the groups continuous movement which makes it really not reliable and difficult to trek but can still be seen on your safari in Rwanda at Volcanoes National Park.
Just like any of the gorilla groups, it moves in search of Vegetation only that its movements are so much. This particular family moves a lot from place to place and so the Rwanda development Board has assigned skilled trackers to locate it a day or hours before the visitors tracking it. It is not difficult any more to find this group but this depends on their previous day movements too.
This group usually roams on the slopes of mountain Visoke. Each Gorillas trekking safari is an adventure of it own. Try trekking this family and you will see a difference from those you have tracked before. Remember gorilla tracking rules and regulations apply.
Trekking this group is a challenge you should not dare miss. The trek can be tiring at times but definitely worth the experience in the end.
Before your trek, you will have to attend a 30 minutes briefing meeting that should enlighten you on the dos and donts of Mountain gorilla trekking in Rwanda. This meeting is also a perfect platform for you to air out any questions that you might need to ask hence, do not hesitate to let all those questions out.
You will be allocated into groups before you make your final way into the jungles of Volcanoes National Park under the accompaniment of armed safari rangers for protection as yous search for Ugenda gorilla group. The actual gorilla trekking experience can take somewhere between 2 to 8 hours inclusive of a full hours encounter with these gentle giants in their natural habitats.