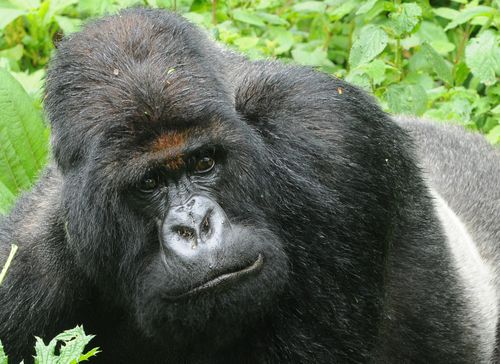 So many mountain gorillas inhabit the jungles of Volcanoes National Park Rwanda. These gorillas contribute the biggest percentage of revenue generated from the country's tourism sector annually. Each troop lives in a family that is being led by a Silverback.
Titus Gorilla Group is one of those families you will see when you book your Rwanda gorilla safari; But what is so special about this group in particular? As mentioned always, the primates share over 98% of human DNA hence, have characters close to that of humans. Gorillas do have feelings, traits and so much more. Titus, a Silverback who turned out to be the cornerstone of this particular family is a strong and humble fellow. If you are humble in real life then trekking this group would definitely be ideal for you.
Despite being a small family, this group turns out to be one of the most interesting groups to track. It inhabits the slopes of Karisimbi and Visoke volcanoes and adopted its name from Titus.
Titus breathed his first during the era when Dian Fossey was carrying out research at the Karisoke Gorilla Family. His natal family was described for strength and humbleness, the same traits that defined this Silverback during his 35 years on earth.
Titus faced a very hard time during his childhood. Seeing all his parents and siblings perish at the hands of poachers was a terrorizing moment for him. His luck however, drew him closer to another family that raised and protected him despite being premature and having difficulties in breathing. Titus did overcome all these obstacles and turned into a very strong dominant Silverback.
When he grew up, he along with the likes of other male gorillas like Beetsme pioneered the formation of a new group and later got joined by other 5 females who flee their respective groups. A threatened Beetsme chased away all the other male gorillas sparing Titus as his only defensive arm.
A hungry and ambitious Titus shocked Beetsme in 1991 by challenging him in a fight a saw him emerge for victory. He led the group till the year 2007 when he faced a challenge from his own son – Kuryana who suddenly broke away to form his own family.
Titus fathered over 20 babies but as he grew older and weaker, members kept fleeing his group. Titus breathed his fast at 35 years of age when he died a natural death. However, his legacy still lives on and can be observed when you visit Titus Gorilla Group.
Titus was the most successful of all the other Mountain Gorilla families. His family was set for research and is only available for gorilla tracking whenever there is a shortage of gorilla tracking permits.