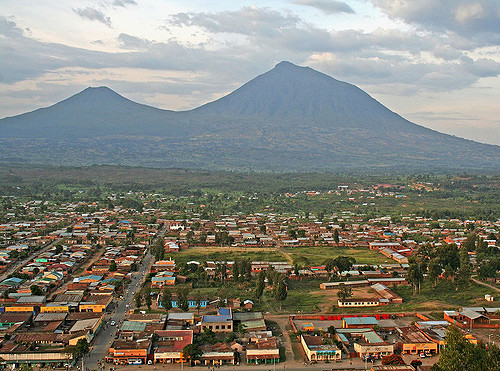 The Ruhengeri Area In Rwanda
Known for being the link to the only home of gorillas in Rwanda, the ton is on the slopes of the Virungas which gives it good scenery thus a good touristic center.
The area has a lot of activities such that one can stay for several days doing various treks and hikes like hiking the volcanoes int his park.
The most impression you get as soon as you approach this area is the drop in temperatures making it so cool fro most of the activities. The taller volcanoes are also eye catching. Seeing about five volcanoes in one shot is also overwhelming. Five of the eight volcanoes of the virunga are found in this area.
Besides this there is the oldest park in Africa famous for the endangered mountain Gorillas. This park covers about 13000 hectares and is also known for the golden monkeys.
The golden monkeys have a bright golden color and can be found in Nyungwe forest although recently they have been recorded in PNV.
It is only during the recent few years that researchers are starting to put together a detailed picture of their lifestyle and routines.
The Golden Monkeys live mainly in the bamboo thickets and are smaller and harder to spot and Prosper Uwingeri, the chief warden at the park says that it is a perfect environment for the survival these animals.
He asserts that Rwanda is lucky because Kinigi is one of the few places where these primates were saved from extinction while there still were enough to be saved.
Uwingeri also says that the over 200 bird species thought to be harbour in the forest is another feature that makes Kinigi stand out as an exemplary touristic town.
During the 1990s Gorillas we a major source of income for Rwanda. This was halted by the 1994 genocide but later came to life again in 1999.
There are roughly only 600 mountain gorillas left in the world, approximately half of these live a few metres away from Kinigi town.
One will spend most of the day out on the field and you will not need much effort to see these world attractions, you just have to be in Kinigi.