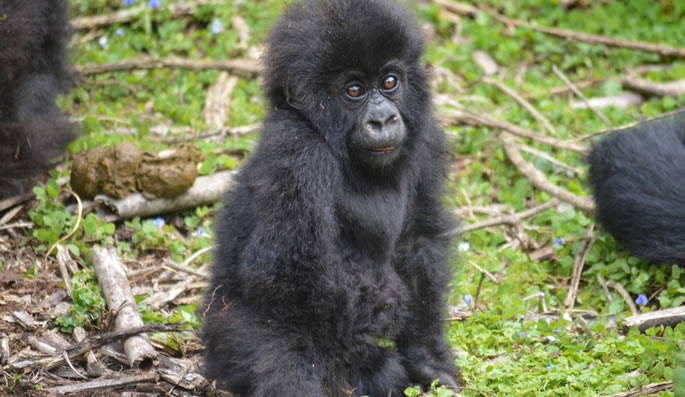 Karisimbi Gorilla Family (Susa B)
Led by a Silverback named Nyagakangaga, Karisimbi Gorilla Group inhabits the slopes of Mount Karisimbi – the highest peak of the Virunga Volcanoes.
This is the group that broke off from Susa Gorilla Group (Susa A) in the year 2009. Their bitter split sliced down the number of Susa A (the biggest mountain gorilla group by then with around 42 members) to approximately 26 members exclusive of their Silverbacks.
Nyagakangaga parted ways along with 13 members and moved far away to begin their own Mountain gorilla family. The group was first called Susa B but later had its name changed Karisimbi in the year 2010. This group wanders around the lower slopes of Mount Karisimbi.
Karisimbi previously stood at a score of 15 members but unfortunately some of their members called it quits and joined other groups. Today this group has 11 members including 1 adult female, 4 Silverbacks, a Black Back and 2 infants.
I would say Karisimbi Gorilla Group is one of the hardest to trek. The group sought shelter near a caldera in Mount Karisimbi. Sometimes it could take up to a day to locate them and on the rear occasions when they move to a much higher altitude, it becomes almost impossible to locate them. However, this should never be your worry because the park rangers are skilled enough to locate the family within a short span and communicate the exact location to fellow rangers so as to keep them away from trekking long distances.
If you need to test your physical fitness level then this mountain gorilla group should be top on your list. Locating them can be a hell of a physical challenge at times and you will sure tire out unless its one of those lucky days when they get much closer.
Book any of our affordable Rwanda gorilla safaris and request us to schedule for you a trek to this family and we shall reserve your permits.