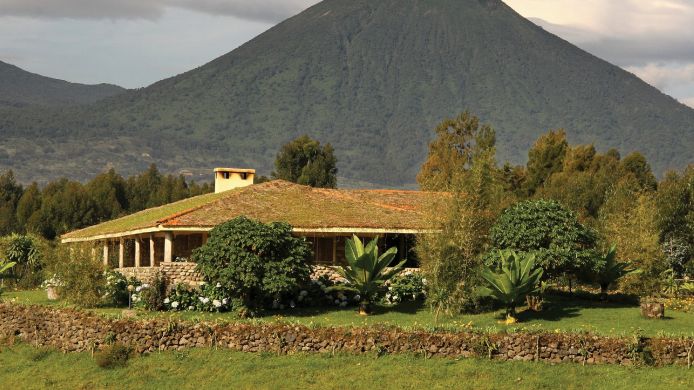 Mountain Gorillas Nest lodge
Mountain gorilla's nest lodge is a Super luxury lodge located northern Rwanda's Musanze district nestled in a forest of Eucalyptus trees. The lodge offers a family sized magnificent accommodation at the Jack Hannah's cottages with beautiful views of Rwanda's hills and slopes of the Volcanoes national park.
The cottages
built in a grove of trees, the cottages were arranged in a semi-circle around the central courtyard with 40 rooms and they are all en suite. The spacious cottages have 2 large bedrooms that can accommodate 4 people at maximum, each bedroom has its own spacious bathroom with a lovely view of the golf course, a central area comprising of a very beautiful living room area with a fireplace burning wood, a television, a dining with a bar area and a kitchen.
At the outside is a wraparound porch / veranda with entry from the living room with a lovely view of a "green" golf course and the rolling hills of Rwanda. The cottages are very private and quiet and they are flexible within the choices made.
Service at the Lodge
During your stay at the Jack Hannah lodge, you will be taken very good care of. The service is superb including the staff that is so professional, friendly, attentive and ready to attend to your utmost comfort, refilling the firewood at your fireplace, provide very early wake ups so that you do not miss your gorilla safari. The restaurant provides full course meals and there is full supply of electricity by the running generator. Other services provided include free wifi. Hannah Cottage is a nice enough option enough for all categories of guest most especially for a family of four, who will make exclusive use of the house.