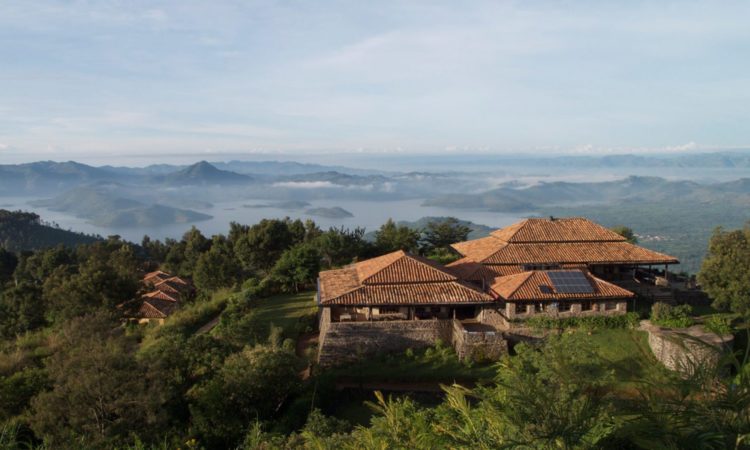 Virunga lodge is one of the exclusive and premier luxury lodges used by guests visiting the endangered mountain gorillas in Rwanda. The lodge is situated about an hour's drive from the park head quarters-kinigi. The lodge sprawls across a 2,175 meters top hill overlooking the shimmering twin lakes of Burera and Lake Ruhondo and with a phenomenal view of the four Virunga volcanoes to the northwest.
Virunga Lodge is currently the area's top lodges and certainly has one of the most spectacular locations of any camp in Africa on a ridge overlooking both Lakes.
The lodge was built in an eco-friendly fashion and is made of eight spacious stone rooms, all with wooden floors, chunky wooden furniture and large verandas with comfortable seating because guests will also be enjoying the unfolding panorama, the spacious and wooden cottages are spread around the hill to allow guests maximum privacy.
Each room is connected by a short covered walkway to a private toilet and shower. The toilets are low flushing eco toilets and the shower has solar heated water.
Virunga Lodge is quite adventurous and sociable to be, as everyone eats at one large table in the evening. The lodge has highly qualified staffs that even go out of their way to make the guest's stay enjoyment.
Other than providing enjoyable facilities, the lodge also provides local 'Indore' dance troupes that perform to entertain their guests after viewing the mountain gorillas and massages are also available.