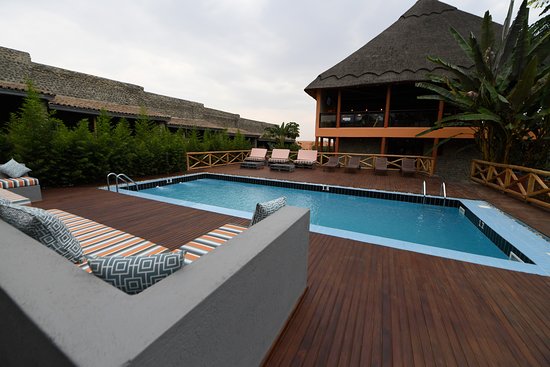 Five Volcanoes Boutique Hotel
Five Volcanoes Boutique Hotel is a five star accommodation situated in the capital- Ruhengeri in Musanze district which one of the most visited cities in Rwanda. The hotel is conveniently set just along the road heading to Kinigi-Volcanoes national park head office which is less than 15 minutes drive away to find the mountain gorillas.
Five Volcanoes Boutique Hotel is found conveniently midway deriving its name from five of the eight volcanoes found in Rwanda in the Virunga Mountains chain.
The lodge offers relaxing high end accommodation, with beautiful views of the rolling hills of the "Land of a thousand hills". Accommodation comprises of 13 bedrooms-double/twin and a VIP cottage. The facility is suitable for all categories including families, couples and friends travelling together. Each room is air conditioned featuring a flat-screen TV, a refrigerator, a fire place and a kettle.
Outside amenities include; restaurant, a pool, a garden, a fireplace and a traditional sauna and a steam sauna. The hotel has a 24 hour front desk and staff that is very helpful always looking forward to making your stay a pleasant one.